---
Learning to code is quickly becoming as important as learning a second language. Coders are in higher demand than ever before, and even President Obama is encouraging Americans and everyone in the world to brush up on their Computer Sciences.
Sitting down and learning a new development language used to involve picking up a book or trial and error while actually building an application. Now, thanks to the power of the internet and mobile learning, it's easier than ever before to become fluent in coding. There are a plethora of websites, games and even mobile applications that aim to help you learn how to build things for the Web, regardless of your age.
Bo & Yana
If you want to get your children interested in coding at an early age, Bo & Yana might be the best way to get them excited about it. Play-i kicked off a crowdfunding campaign last year to raise money to build two adorable robots that help kids learn to code by allowing them to program the robot's actions.
The robots can be programmed on iOS and Android applications that make the development process visual and fun, while teaching kids the fundamentals of coding. For younger kids, there's a drag and drop interface that allows them to learn the logic of how to code without needing to worry about the syntax or specifics of development.
Between the visually captivating interface and a physical end result that allows children to see the fruits of their labor come to life in the real world, Play-i is making great strides in getting kids hooked on development early, providing them many opportunities for success in their later lives.
Hopscotch
Hopscotch is another application that's targeted at children, but it works just as well for anyone with little-to-no coding knowledge. It uses a drag-and-drop technique similar to that of Bo & Yana, but builds simple animations and games as a result of the code instead of animating toy robots.
This technique offers a powerful way to learn visually, by freeing the user up from having to learn specific syntaxes or picky languages early on. Once they've used this app for a while, most will feel comfortable moving on to a more advanced learning technique or service and building their own applications.
Hopscotch can build some pretty powerful animations and games despite its simplicity, and kids that use it are likely to become quickly addicted! If you're looking for a different way to learn to code that doesn't involve complex math and patterns of punctuation marks, this is a great place to start.
Codecademy
Perhaps the most popular learning tool on the market is Codecademy. This free Internet institution has been around since 2011 and offers a plethora of courses for learning anything related to web development. From Javascript and HTML to Ruby on Rails, Codecademy has got you covered.
Codecademy started as a simple in-browser developing platform that offered engaging lessons geared towards a variety of skill levels ranging from total newbs to experienced Web Developers. After its wildly successful start, Codecademy launched an iOS application that allows learning on the go, which was introduced as part of the Hour of Code promotion in 2013.
Codecademy has a great community and encourages collaboration with others when they get stuck. It's a great way to dive into the nitty gritty of coding without needing to set up an environment or worry about what to download to get started.
The site tracks progress with badges and achievements, which users are able to compare with friends. This alone can be quite the motivation, as those who code together don't want to be left behind.
Code.org
Code.org is a non-profit working to get more people participating in Computer Science by making it available in schools at a younger age. The organization set out to bring CS classes to every K-12 school in the US and implement an online curriculum that teachers can follow in and outside of the classroom.
The service offers a range of different learning programs that encourage students to spend an hour a day learning code. Many of the courses are presented by notable people in the industry, such as Bill Gates (as seen below) and Mark Zuckerberg.
There are a range of tutorials available for a range of devices, such as one that teaches students how to build an iPhone game right in their browser. All that's required is a computing device and an hour of their time. Eventually, Code.org hopes to get all kids learning at a school level, getting them started early and showing them that the IT industry is an attractive investment into their futures.
Hakitzu Elite: Robot Hackers
This might look like your average computer game at first glance, but Hakitzu Elite: Robot Hackers is much more than that. Hakitzu is a game/learning tool, requiring players to battle giant robots in an arena using Javascript in order to control the robot.
The idea is that you fight through the single-player mode to slowly hone skills and learn the basics. Once completed, the user is then able to play a multiplayer game with others online to test their skills and development speed against other real players. It's an interesting way to jam learning into a game but it seems to work quite well to keep it fun and hold your attention for longer than a traditional lesson might.
Treehouse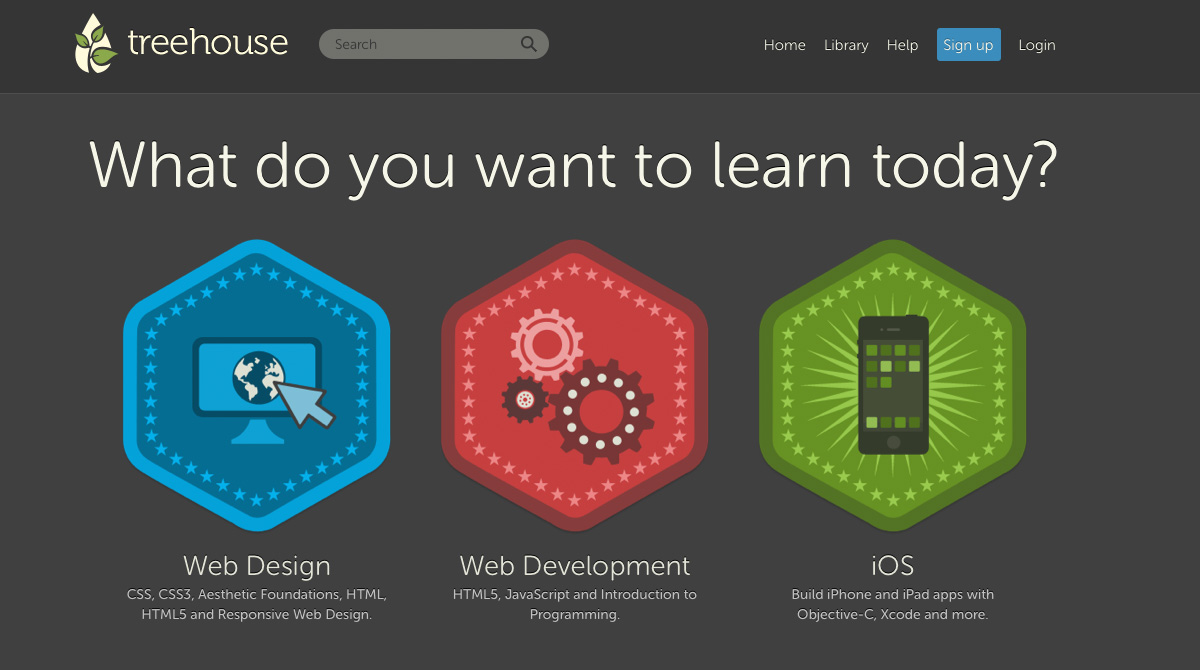 For those serious about getting started and hope to have a job in development one day, Treehouse is a great place to learn. The site offers everything from HTML/CSS to WordPress theming or iPhone and Android application development.
Treehouse offers video-driven tutorials that cover the entire development process; from setting up the environment that's used to code, to teaching how each piece of code works and bringing a project to completion. Videos can be watched on mobile devices and followed along at an easy pace.
The service offers a points system to track which skills you've learned and identify your strengths, as well as pop quizzes to ensure you're on the right track and retaining the knowledge. Just like Codecademy, Treehouse keeps users engaged through a community of like-minded individuals honing their coding skills.
However, unlike Codecademy, Treehouse comes with a cost. There's a free 14-day trial, but then you're hit with a monthly fee to keep using the course content. However, it's still cheaper than your average college class, and the UI is noticeably nicer than Codecademy. If you don't mind dropping some dollars on your coding education, Treehouse may be the place to spend it.
Plenty of options for all
No matter your age or background, it's easy to find a program to help you pick up code. Best part is, it doesn't even require a textbook anymore, nor does it require setting up complicated environments to get started. These days, it's as easy as opening a browser or downloading an application.
We've covered a smattering of services that let you peek under the hood of the Internet and mobile applications, but there are still hundreds more available around the web. If you've been contemplating picking up a second language, you should put some serious thought into picking up the one that's spoken in just about every country in the world: code.

For more information on technology and education, view our presentation on the Classroom of the Future and follow us on Twitter for updates.