---
Startups are changing the way the world works everyday, and mobile devices are making this sentiment even more prevalent. At almost every corner, these startups are out-maneuvering big corporations with their agility and speed to market. From mega hotel chains to transportation services, tech-savvy newcomers are giving well-established companies a run for their money.
The hotel industry is lagging
Are you a world traveler looking for a cheaper, more local alternative to popular hotel chains? Do you have a spare room or guest house that's just collecting dust? Either way, Hotels.com and similar travel sites aren't going to help you. To fill that void, look no further than Airbnb, the popular lodging site for our social and mobile world.
Airbnb is tackling the hotel industry head-on by allowing anyone with a spare room or house to rent it online, almost entirely risk-free. The company even insures dwelling spaces for up to $1,000,000, easing concerns for any property owners hesitant to open their space up to strangers. And for both sides of the transaction, Airbnb authenticates users through their social networks, emails, phone numbers and reviews, providing the renter and rentee with plenty of information to accept or decline a potential accommodation.
Since Airbnb has a significant amount of properties available almost anywhere in the world, the service is able to undercut the average price of a hotel for the traveler, while offering a "local" and personal experience major hotel chains are incapable of providing. But where Airbnb really surpasses the hotel industry—and even competitors like HomeAway and FlipKey—is their mobile app, which currently enjoys a 4-star rating in the Google Play Store and 4.5 stars in the Apple App Store.
So why does Airbnb's mobile offering blow every other hotel and lodging service out of the water? They understand something many accommodation websites fail to understand, people these days are social, mobile and spontaneous. The Airbnb app perfectly meets these needs by allowing renters and property owners to message each other with the ease of a text, helping travelers sift through accommodations via easy-to-navigate maps and menus, and showing what's available in the users immediate area.
It basically does everything a website would do, with the added bonus of faster communications and spur-of-the-moment decision making. And in the latest version of the app, users can copy links to their favorite listings directly to their clipboard and earn travel credits by inviting friends and family to Airbnb through Sina Weibo, WeChat, and WhatsApp.
The integration of these new messaging services also encourages the traveler to engage with the renter on a personal level, offering local knowledge right at their fingertips. It's a great way to travel, and the hotel industry is yet to come up with a real response other than trying to get the service banned in some cities around the world.
Cabs can't keep up
Another industry being disrupted by the mobile boom is the taxi business. This may not be the case in cities like New York, where unoccupied cabs can be found on every block, but for anyone who's ever battled with a Yellow Cab operator to find a ride, there's a growing number of startups providing a less-frustrating alternative.
Companies like Lyft and Uber have picked up incredible steam over the past year as commuters grow increasingly frustrated with old-school transportation services. Instead of calling the cab company and waiting endlessly for the driver, users can use an app to request a pickup and get a price up front, rather being surprised by their fare when they arrive at their destination. Users also get the added benefit of knowing where their ride is coming from, giving them a good idea of how long they'll have to wait, unlike the cab estimates that are rarely ever accurate.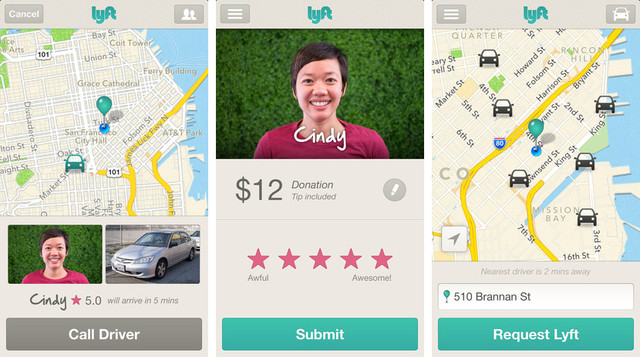 The competition between Lyft and Uber has made the experience even better for users. For riders looking for the lowest prices, UberX uses their size and financial backing to undercut Lyft as often as possible. To maintain a place in the market, Lyft has pushed their weirdness beyond the pink mustaches and into themed rides like HipHop Lyft and Cookie Wars. Whether you want a bass-filled sedan or the cheapest fare on four wheels, it's clear that taxi cabs aren't what you're looking for.
To combat the these innovative startups, the cab industry is turning to the age-old practice of suing, spending thousands of dollars to get services like Lyft and Uber blocked in some cities. Although this may have worked in New York and LA, there are still plenty of cities more than willing to accept these taxi alternatives.
Other startup safe havens
Another antiquated business model in need of an update is the music industry, including the hardware we use to enjoy our favorite tunes. Sonos, now a relatively large company itself, shook up the entire audio equipment market when it released its wireless HiFi audio system. Sonos's revolutionary system exchanged all the cords of traditional stereos for unprecedented app connectivity that allows users to access music from services like Spotify, Hype Machine and Pandora with ease, and wirelessly.
Telecommunication companies are also feeling the sting of agile startups thanks to messaging services like WhatsApp, Line and Viber. These crafty apps use data and WiFi connections to circumvent the text messaging charges that have been lining the pockets of mobile service providers for decades. And with Google Hangouts and Apple Messages working seamlessly across desktops, laptops and mobile devices, it's hard to justify paying even a dime to send a text.
Smarter is better
Customers are delighted by solutions that make it easier to perform frustrating, slow or monotonous tasks. Mobile apps that are fun and easy to use can completely transform the way users interact with industries that are saturated by market leaders that lack innovation. The success of apps like Airbnb, Lyft and Uber are shining examples, and it won't end there.
Some spaces with massive potential that are still waiting to be tapped are education, healthcare and government. Most of these use complex, cumbersome systems that can be hard to adapt, but they are ripe for change. There's plenty of opportunity for modest startups to capture wide audiences by creating easy and efficient mobile experiences—as long as slow-moving behemoths don't get with the times.

Compare and contrast apps across a variety of industries with the Otter App Ratings Visualizer.